Five Common Mortgage Mistakes
Monday, May 23, 2016
Most buyers find that the mortgage is the biggest monthly expense they'll have, but most borrowers do little to no preparation or shopping to find the best deal possible. A buyer can end up paying more money for their loans than is needed. Here are five of the biggest mistakes you can make when getting a mortgage.
Trusting Advertised Rates
Unless your credit is perfect, advertised rates are very unrealistic. In order to get a rate that good you'll have to pay for points, which cost one percent of the total loan for each. Your lender will be looking through your credit very closely to find anything that can raise the rate, including qualifying you at the start of the transaction and running your credit a second time a few days before you close on the home loan. If anything has changed in your debt-to-income ratio you won't be getting your low rate.
Not Comparing Lenders
Loan officers work for banks or savings and loans and are only able to offer you the packages that their bank or savings and loan offices offer. A mortgage broker is able to prequalify you just like a loan officer is and can look into different deals from various lenders. It doesn't matter if you choose a loan officer or a mortgage broker, either way you are going to have to share personal financial information in order to get a rate. Most brokers will show you which banks and credit unions have offered what so you can pick the loan you like the most. If you'd rather look for yourself try visiting your bank, a savings and loan or a credit union but keep in mind that unless you give them your personal financial information and the permission needed to run your credit they won't be able to give you an accurate rate.
Not Noticing the Terms
Even the advertised rates for those with perfect credit the price you see is not the price you'll pay. The actual cost of the loan is the annual percentage rate, or APR and that includes fees from the lender. Comprehending loan terms is extremely difficult. There are many ways lenders can increase the fees. A processing fee, also known as a loan origination fee, pays the mortgage broker or loan officer so this fee can differ widely in price. One loan officer might charge more for pulling your credit than others. It will all be in your good faith estimate which you will receive after you've applied for the loan. The terms are negotiable so don't worry about asking about the meaning of any fees or asking if they can be removed or lowered.
Waiting too Long for a Better Rate
Having a lower rate is great but you don't want to lose the perfect home over .25% of a point in interest. No matter what your interest is you'll be paying thousands of dollars in interest up front before you can make a serious advance in equity.
Don't focus on your percentage rate and start working on building equity as fast as possible. Try making an extra payment every year or pay extra every month. This will help you counterbalance your rate. If your rates drop over the years, you have the option to refinance, though it's not the best solution. You'll have to pay title search fees, loan origination fees and those could add up to be the same amount of money you spent on closing costs the first time. You'd also be starting the amortization schedule over again with your payments going towards interest instead of the principal.
Picking the Wrong Type of Loan
The type of loan you pick depends on what the market conditions are and how long you are planning on staying on the market, not by how much money you need for your home. The current market favors fixed rates because of the rates rising from all-time lows. They may cost more than hybrid and adjustable rate loans, but the base amount is fixed and does not change, the only things that will change through the years will be your hazard insurance and taxes.
If you select an adjustable rate mortgage you are subject to the conditions of the market and while there is a cap on how high your rates can go it's still a bit of a risk. If you're planning on living in your home for more than five years get a fixed-rate mortgage. If you are going to sell your home sooner it's risky. It takes most buyers five years to earn back their closing costs in equity.
When you've reduced the pool of lenders ask all of them to give you a quote on the same day. Rates change day-to-day so make sure you ask all your potential lenders on the same day.
Have An Awesome Week!
Sandi's Hot Home Listing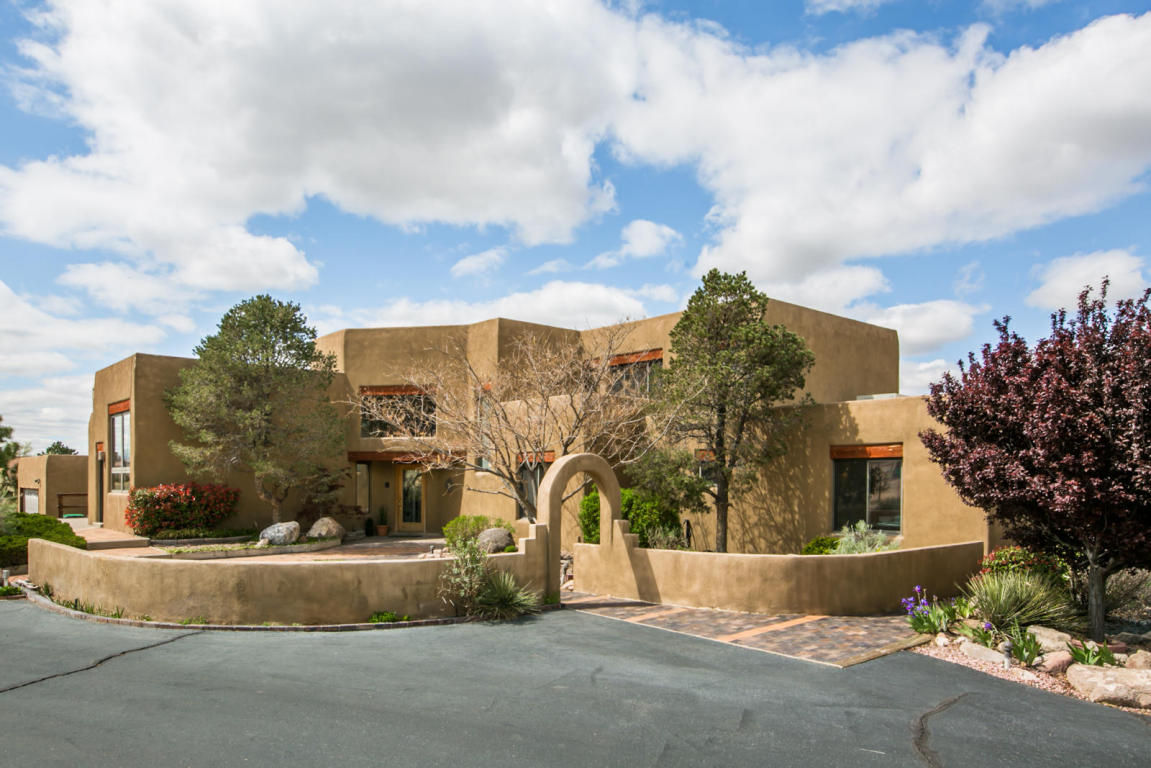 11600 San Rafael Avenue, Albuquerque
Price: $695,000 Beds:4 Baths:2 Square Feet: 3,950
SW meets contemporary in this Stunning Custom home offers an abundance of space. Thoughtfully designed 3900+ sq ft floor plan for optimal living and flexibility. Panoramic views of the Sandia & City lights. Wonderful sunsets. Flooded with light! Gated home on .89ac lot. Open Flpl w/4bdrm and Flexroom /study/office/exercise/game rm.
---
AND HERE'S YOUR MONDAY MORNING COFFEE!!