How Important is Curb Appeal?
Sunday, May 10, 2015
Do you have a home on the market in Albuquerque? Are you getting ready to list your home for sale? If so, one of the most important parts of your listing is your home's Curb Appeal. How your home appears from the street is just as important as how it looks inside because, if the buyer isn't sold when they drive up, they may never take the time see what's beyond the front door. Well-maintained landscaping, a clean yard and attention to details, will attract more buyers and possibly a higher sales price.
When a potential buyer drives up to your listing, the first thing they notice is the big picture. They see your home, the trees, flowers, colors and most importantly, the level of effort taken on the outside of the home. That first impression is vital and you've already lost it if you've got dead plants, chipping paint and cracked sidewalks. Not only will the buyer be turned off by the disrepair outside, they'll make assumptions that the same level of care has been taken inside.
Creating the perfect first impression can feel expensive and overwhelming, but it doesn't have to be. Here are 5 projects that can be low cost and have a high impact on your home's curb appeal.
Remove any dead plants or flowers, trees, fallen leaves and trash from your yard. This step alone will make a big difference in the appearance of your yard from the curb.
Pull weeds and cut the grass, regularly. Nothing says deferred maintenance like tall weeds or an overgrown lawn. Consider asking a neighborhood teen willing to do this for a small fee every week.
Add some color with potted flowers. After removing any dead plants and trees, you may notice blanks spots in your yard. Leaving them blank is fine but you can also fill in with seasonal, flowering plants.
Clean everything! Front facing windows and screens should be cleaned and repaired if needed. Spray off the patio and driveway and do your best to remove any stains. Remove cobwebs from corners and make sure your entry walkway is free of debris including fallen leaves.
Make the garage door shine! Depending on the size of your home, the garage door can comprise up to half of the visual space from the curb. Make sure it's clean and in good condition. Consider adding new hardware or a decorative address block above the garage for added appeal.
Your local landscape supply company or home improvement store can be valuable resources for ideas and supplies. Take a sketch or photo of the front of your home with you and don't be afraid to ask for ideas. This small step can mean more traffic for your listing and a higher sales price when the right buyer comes along.
Have a great week!
---
Sandi's Hot Home Listing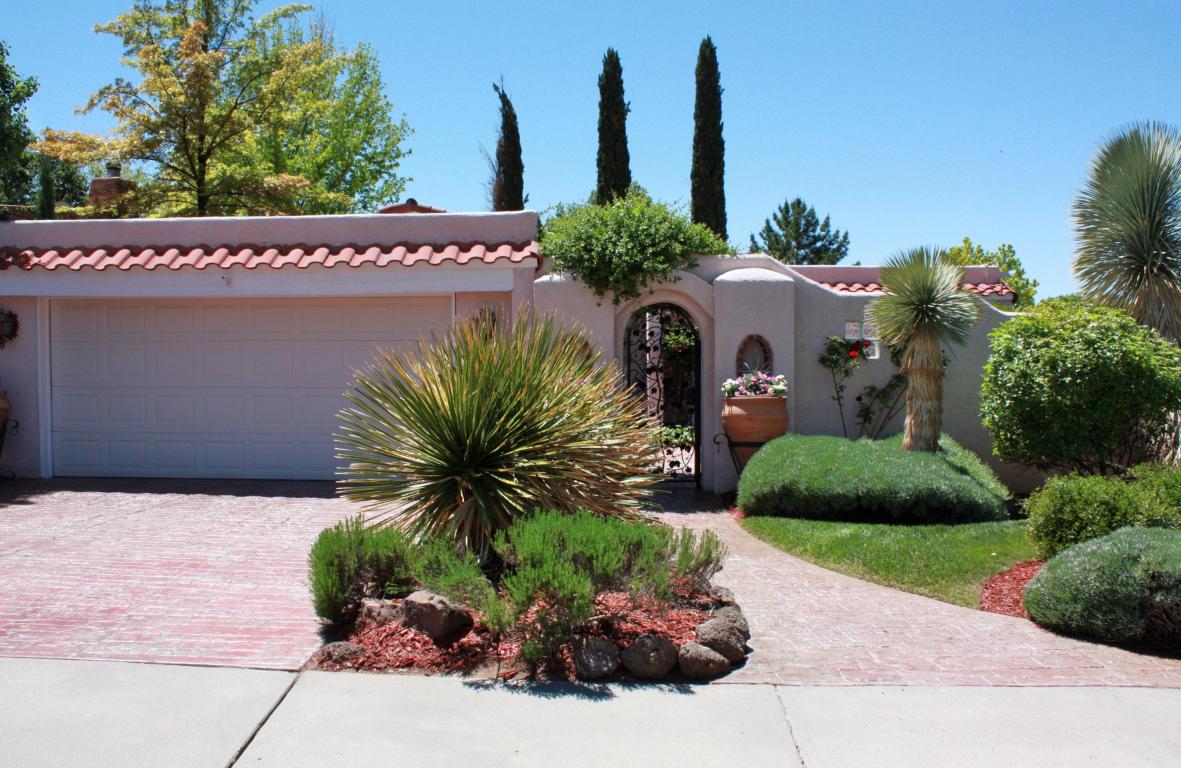 9759 Colonial Circle NE, Albuquerque
Price: $339,000 Beds: 3 Baths: 2 Square Feet: 1,900
This stunning, single story home is situated in the desired and lovely, guarded and gated community of Tanoan. The property overlooks mountain and golf course views. T this open, light and bright floor plan has vaulted ceilings and shows like a model! This gorgeous home showcases 2 living areas, a lovely kitchen plus 3 bedrooms, a 2 way fireplace inside, an outdoor fireplace, 2 full baths and a 2 car garage! View This Listing
---