How To Make Your Offer More Appealing
Wednesday, July 13, 2016
The current real estate market is extremely competitive due to the low mortgage rates and renewed interest in the market. Many buyers find it frustrating to spend weeks and weeks searching for the perfect home only to find the house has five other offers on the same property. It's a maddening and time consuming process that can drive most buyers up the wall. Here are a few tips that can help you make your offer stand out among the others.
Get Pre-Approved
Getting a true pre-approval from a reputable lender means you have given your lender your personal financial information and that lender has given your information to an underwriter for approval which leaves a clear title and the home appraisal as the only remaining criteria. Getting pre-approved shows the seller that you're serious and prepared to purchase their home. After an offer is accepted the home will be removed from the market and will be unavailable to other buyers. The seller will only want to take their home off the market for a reliable seller and having a pre-approval from a reputable lender will make your offer more appealing.
Work With an Experienced Realtor
Buying a home is a huge investment, and sometimes you can be pressured into working with a realtor that was recommended by a friend or family member, but you need to make sure you find a realtor that's qualified for you, and the homes and area you're looking at. The knowledge from an experienced realtor can save you time and money and can give you an edge when going up against other buyers.
Don't Lowball the Seller
Before your offer is submitted, your agent should've pulled comparables, which should have given you an idea of what similar houses in the area have sold for and the average days on market. These factors go into the estimated sales price of the home you're looking at. If all goes well and the house is priced in line with recent sales and there are no signs of extra maintenance that could cause delays, all that's left is to make an offer. Making an offer 25% under the asking price of a home that's properly priced and in good repair can be a huge insult to the seller, you may even end up with a rejection instead of a counteroffer. While you're trying to barter with the seller, you leave the door open for other buyers to come in and give better offers. This doesn't mean you have to pay the asking price upfront, but pay attention to the numbers and don't try to bluff your way to a lower price.
Put Down More Earnest Money
Earnest money, or escrow depending on where you live, is a deposit made in good faith that tells the seller you're serious about buying their home. The more money you deposit, the more seriously the seller will take you and your offer. The seller is looking for a guarantee before they take their home off the market, putting down more money will show the seller how serious you are about buying their home, and the money is not lost if you close.
Contact the Listing Agent
Having your lender contact the listing agent and explain that you are a serious buyer, whose credit has been pulled and jobs have been verified, which can bring your offer to the top of the pile. Having your lender contact the listing agent introduces the lender and the agent, and a competent lender is reassuring to the agent and by extension, the seller.
Be Flexible
When you make an offer, there are several factors that you'll need to consider about the seller. If the seller needs more time to find another place to live, or is moving across country, be accommodating. Your understanding might mean more to the seller than having a higher dollar offer. Have your broker call the listing agent before sending over your offer and explain that if the seller needs more time to leave at the closing you're willing to be flexible. This will put less pressure on the seller during the moving process, which is something every seller needs.
Shorten the Inspection Period
There are quite a few points in the contract where the transaction can go bad for the seller and one major point is the inspection period. By cutting down the time frame for the inspection process you can limit the window of opportunity for you to remove yourself from the transaction. You can add to your offer that you're looking for only major defects in the home and any other defects you are willing to accept up to a certain point. This will assure the seller you're not going to back out of the transaction or ask them to repair a list of small items.
Try to Meet the Sellers
Meeting the sellers can be a good idea or a bad idea. If you really want to buy the house, ask if the sellers can be there when you view the house. Putting a personal touch into your transaction can go a long way into a deal.
Raise the Offer
Making an offer and getting it accepted can involve other factors of the purchase agreement besides the price, but of you find your offers keep getting cut off by higher bids you may want to consider raising your offer. This isn't something you should lead with, but sometimes a home is priced below market value with the expectation of multiple offers. After you receive comparables and you know that the home is priced below market value, give an offer that is closer to market value, you'll also want to make it an odd numbered number. Most people think in terms of even numbers, so instead of writing an offer of $255,000 write an offer for $257,770, you can win the home by just $50. Overpaying for a home, if you're going to get a mortgage may mean you don't pass your appraisal. This is where your experienced Realtor will pay off, as they will know the market values of the area you're looking to buy in. Knowing the framework of making an offer and having good communication with your Realtor will help you navigate through the process and will save you money and time. If you're ready to buy a home, contact The Sandi Pressley Team today.
Have An Awesome Week!
Sandi's Hot Home Listing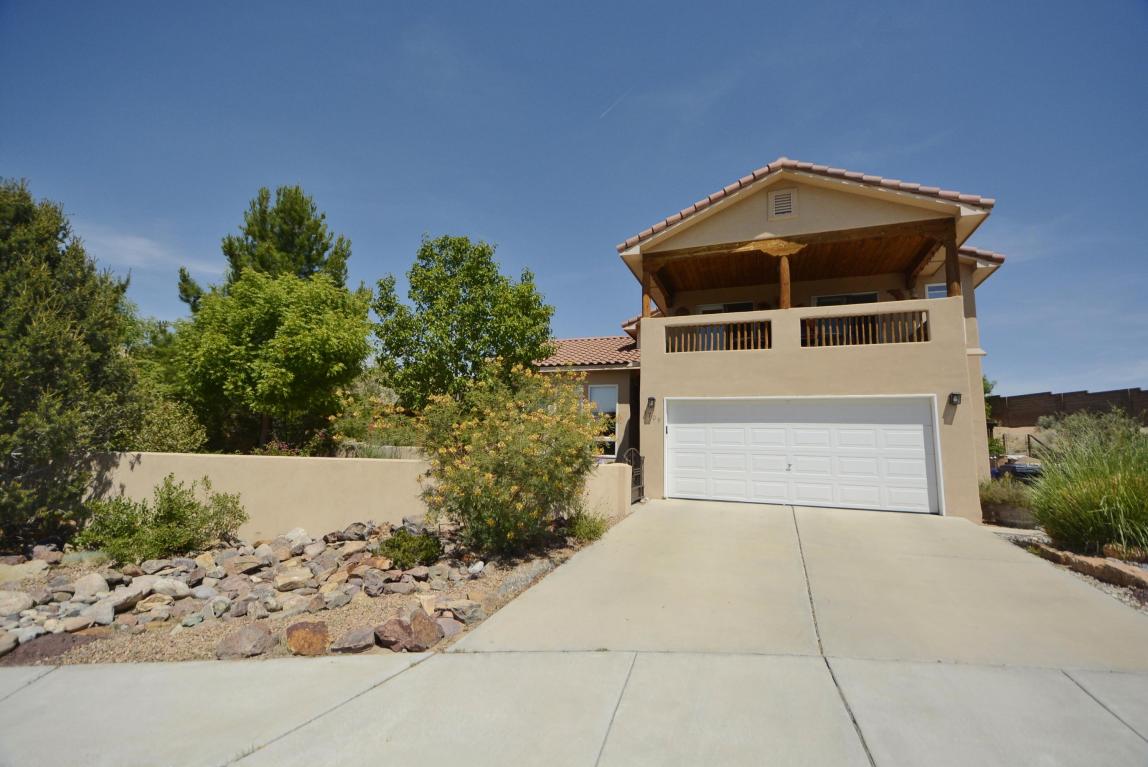 5709 Altima Place, Albuquerque
Price: $269,000 Beds: 3 Baths: 2 Square Feet: 2,040
Quality custom home with Southwest Elegance & charm offers amazing views of mountains & incredible city views. With over $72,000 in upgrades,this 3-4BDRMS/2Bths/2Car garage hm showcases soaring ceilings w/vigas & corbels complimented w/wood latillas & arched accents thru-out.Home has it all! Great Room offers upgraded tile&cozy kiva fireplace. Beautifully updated Kitchen w/Hi-end Granite Counters, updated appliances, breakfast bar&farmers sink.
---
AND HERE'S YOUR MONDAY MORNING COFFEE!!