Thinking of Flipping a House in Albuquerque?
Monday, May 16, 2016
Whenever you turn the TV onto the HGTV or DIY channels you're likely to find a show or two about house flipping. They're usually cautionary tales of people who overreach financially or make some big rookie mistakes, but most of the time the houses featured turn a profit of $30,000+ in just a matter of months. If you think that house flipping is something you might be interested in, here are a few things you should know before you start.
Be Aware of the Financial Risks
It may seem obvious that there is a bit of risk involved, but some people don't quite understand the huge financial stakes that are involved. The first expense is the cost of acquiring the property, and while low or no money down financing options are easy to find, finding these from legitimate vendors is harder than you might think. And if you're paying for the home yourself that means you're paying interest and every dollar paid in interest adds to the amount you'll need to make back on the sale of the home in order to make your money back. If you're planning on paying in cash, you don't have to worry about interest, but you will have to deal with carrying costs like HOA fees, property taxes and utilities.
If you don't have the cash to buy a home to flip, the next thing you could try is home equity line of credit or HELOC. These are variable-rate, low-interest lines of credit that are secured by an investment property or your primary residence, usually HELOC rates are set about 1-2% over the prime rate. You'll need to put the HELOC in place before you start to bid on any properties, but then you can bid on the home as if it were a cash deal rather than a financing deal. Lots of investors use hard money loans or other conventional mortgages to finance their flips. Because of higher interest rates and the points that have to be paid at closing both can reduce your net profit a great deal and are not generally recommended for flips unless there are no other options.
Location
It is extremely important that you find a home in a desirable location, find a neighborhood or city that people want to live in and purchase a house there. Remember to keep the convenience factor in mind, make sure that the home isn't too far from local grocery stores, gas stations, or schools. You don't want to invest in a home that's too far from everything to be worth it.
Get a Realtor
Trying to get the best price for your flipped by yourself rarely works as well as you want it to if you aren't familiar with the process. Figuring out disclosures and conditions without going to real estate school might be more difficult than figuring out which walls you can knock down without knocking your entire house down. The money spent on realtor commissions will be well spent for their skill set. More than just getting your house sold, a good real estate agent can help in other ways when flipping a house. They can help you find some great deals, help you connect with lenders and contractors and get you comps. Don't settle for any broker, take your time and look around and find a good investor friendly agent.
Update Smarter
Knowing where and what to spend your budget on is one of the most important parts of a successful house flip. You want to make sure you don't leave key areas without improvements but you also don't want to over-improve for the neighborhood you're in. Home improvements that increase a home's value are things like kitchen upgrades, more closet space, green energy technology, the addition of a deck and repainting the exterior. Try to avoid improvements like the addition of a sun room, pools, or whirlpool baths as these don't really add to the value of a home. This is another reason to use a realtor as they will be able to guide you through which upgrades would suit your neighborhood and budget best.
Use Good Quality Products
Make sure you don't skip out on supplies. Even though it means more money being poured into your projects, lower priced products might not be high enough in quality to get the job done properly or allow you to sell the home for as much as you need.
Work With Good Quality People
All the people you work with during the flipping process can make or break the chances of it succeeding. Team up with people that you can trust and are qualified in their respective roles. A poorly qualified subcontractor that does a bad job on project can end up costing you thousands more to have it redone by a professional. On the other hand, if you're capable of getting the job done yourself properly then you should do it yourself. But you'll need to be sure you can do the job properly the first time. If you can, you can save time, money and you won't need to invite contractors into your house.
Finding a flippable home in your housing market with a good chance of being a success is a difficult task. But with the proper help, tools and skills it is manageable.
If you're in the market for a home contact the Sandi Pressley Team today.
Have An Awesome Week!
Sandi's Hot Home Listing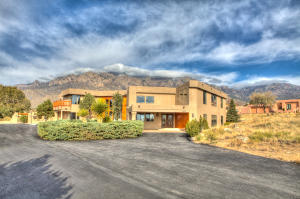 1423 San Rafael Avenue, Albuquerque
Price: $850,000 Beds:4 Baths:2 Square Feet: 5,430
INCREDIBLE & RARE PREMIUM LOT w/360 degree Unobstructed views of sweeping Sandia MTNS & city lights. This .58 AC Custom Home offers quality craftsmanship.Dream home delivers Elegance, Luxury & Serenity! With over 5400SF, the floorplan features great room w/raised T&G ceilings, Adobe accents thru-out, Travertine flooring, HI-end carpet+spacious sunroom & loft + 3 amazing view balconies. Gourmet kitchen highlights granite counters, Prof-Grade S/S Appl.-Chef's Dream!
---
AND HERE'S YOUR MONDAY MORNING COFFEE!!