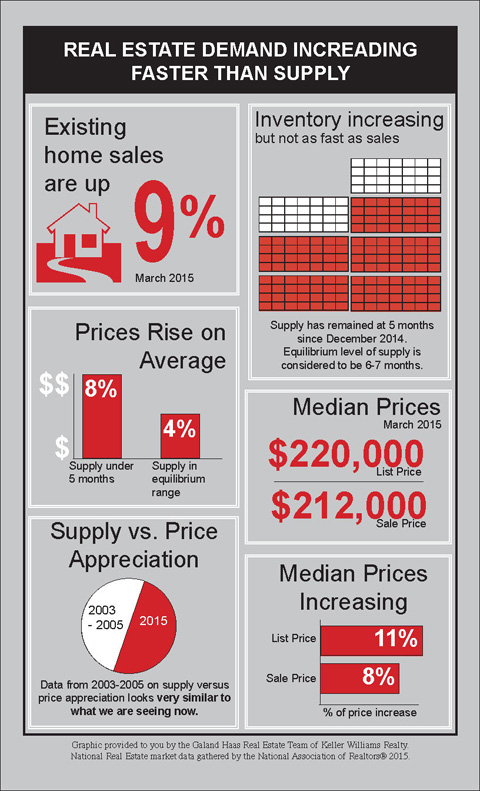 We are asked often if the state of the market in real estate today is setting us up for another housing bubble like that of recent years. The answer is not an easy one. A NAR economist recently addressed that question and you might be surprised at what he had to say.
So far in 2015, the spring buying season is performing well. Prices are rising faster than at the beginning of the year or this time last year. Does that mean we're in a bubble? Not necessarily. This is a common occurrence when demand increases at a faster rate than supply.
Existing home sales were up 9% this March compared to the same time last year. We're also seeing more homes hit the market but not quite enough to answer the increase in demand for those homes.
According to the article, "An equilibrium level of supply on the market is considered to be six to seven months; supply has been under five months since December. Looking at every quarter since 1988, when supply was under five months, prices rose 8% year over year on average. When supply was in the equilibrium range, prices went up only 4% on average."
So why isn't this a bubble? The biggest reason is that loosened lending practices made it much easier for buyers to get a loan during the bubble. While rates are still at historic lows, those lending standards have tightened back up. We saw a record number of new loans during the bubble and that's definitely not repeating this time.
This in turn means we are seeing fewer abandoned homes and less flipping of homes. We are also seeing the return of those important first-time buyers. As the economy continues to slowly improve, it is completely normal, even expected, for home prices to improve. Owners will start seeing the benefit of selling and list their homes and will also encourage new home builders to get into the market again.
If you want to know more about the home sales activity in your area, contact a member of the Sandi Pressley team today.
Have An Awesome Week!
Sandi's Hot Home Listing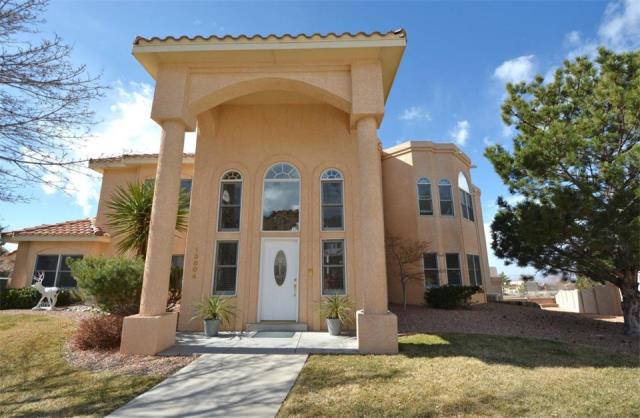 13804 Spirit Trail Place NE, Albuquerque
Price: $629,000 Beds: 5 Baths: 4 Square Feet: 4,935
Exquisitely Feng Shui Home built by ULTIMA HOMES. This Custom home showcases dramatic DOUBLE spiral staircase. With over 4900 SQFT, this dream home offers sophistication & Luxury! Meticulously built-this home features stunning raised ceilings, arched accents, gleaming oak hardwood flooring are but a few. Huge gourmet kitchen w/just installed Hi end granite counter/kitchen island thru-out & stainless steel appl-chefs delight! View This Listing
---
AND HERE'S YOUR MONDAY MORNING COFFEE!!